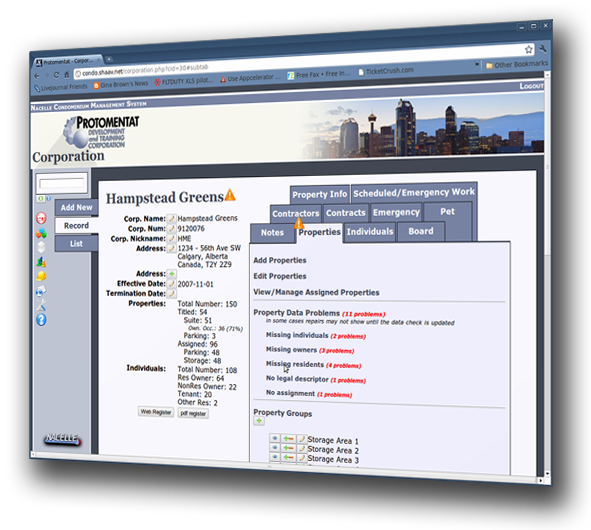 Even a small portfolio of condo corporations can translate to hundreds of units and thousands of people to keep track of. It's a monumental organizational task to just keep on top of what's going on day-to-day, let alone keep an eye on historical patterns or plan for major events a couple of years down the road. Nacelle was developed in close collaboration with condo managers with these principles is mind:
Ubiquitous Access
The answers you need should be at your fingertips whether in the office, at a board meeting or on call at home. More... How much time do you spend each day just trying to answer questions like 'who is Corporation X's preferred window-washer?' and 'how many noise complaints have been sent to unit 402?' Wouldn't it be great if you could answer those questions while at the board meeting or while you're still on the phone without having to add yet another item onto your 'To Do' list? Nacelle makes that possible.
Implicit Record-keeping
'Implicit Record-keeping' means that you don't have to manage your 'paper' trail; Nacelle takes care of it as a natural consequence of doing your work. More... In an ideal world, every letter you send would be indexed and cross-referenced so that you or anyone else could find and refer to it at a moment's notice. Who has the time for that? Every individual or group mailing that you send through Nacelle is automatically archived and tracked. Need to see what letters were sent to an owner? Every individual has a correspondence history where you can view or download everything they've been sent.
'Step' Reduction
Nacelle eliminates steps in many common daily tasks because it's tailored to performing those tasks. More... An owner gives you their e-mail address or a new phone number, you write it on a scrap of paper and then wait until you have a chance to pull up the register to update it. Perhaps you pass it on to someone else responsible for register upkeep. It might take an hour or maybe a couple of days. The paper might be lost, you may not remember who it belongs to or there might be an error transcribing it. When Nacelle is your central organizational tool, it can always be up and available. It's actually easier to just add the information directly into Nacelle in one step, cutting opportunities for human error and providing instant updates to the whole company.

Need to make an AGM sign-in list? Don't muck around trying to update last-year's list or trying to make one from scratch from the register. In Nacelle, you just need to select your template, select the corporation and print. Up-to-date lists, letters, mailing labels—even government-required documentation—are that easy to generate. If you're copying and pasting names, addresses or other information from one document to another (or worse, re-typing it!), Nacelle will increase your efficiency.
Upfront Organization
Nacelle makes it easy to stay on top of day-to-day organization so that you can effectively respond to emergencies and looming deadlines. More... There's no getting around the fact that condo management requires effort to organize. 2am, with water pouring through the roof of one of your corporations, is not the time you want be worrying about your information processes. Nacelle makes it easier for you to be habitually organized by being easily accessible, reducing the burden of tracking records and reducing the effort of organizational tasks. When crisis strikes, you're prepared.
Security
Data protection is vital to your company but we know that's not your area of expertise. Nacelle takes a multi-layered approach to ensure your data is safe—we'd be happy to give you all the technical details, but you'd rather not know, rest-assured we've got you covered. More... Nacelle is a user-based system that you control. Only those people you give accounts to have access your data. However, people getting illicit access to your data isn't the only risk you need to worry about—it's probably not even the most important! You need to worry about accidental or intentional, physical or digital, destruction or corruption of your data. Nacelle takes care of all of these concerns for you.

Even when you 'remove' information in Nacelle, it doesn't go away. To track history and to protect against mistakes or disgruntled employees, with only a few exceptions limited to administrators, nothing gets permanently deleted. Furthermore, your data is backed up hourly and is served from one of the world's largest and most robust cloud networks with redundant hardware and several more layers of backup that ensure your data will always be safe and available. Of course, because Nacelle exists in the cloud, it's immune to disasters (like fire or flood) that could destroy your office.

How does your current system stand up these standards?
With Nacelle, you can provide better service while expanding your portfolio
Try Nacelle
Contact us to get a login to our Nacelle demo site!
We will ask you if we can give you short (30 minute or so) orientation either in person or over the web before you try it out. Nacelle is really easy to to use once you know your way around, but a quick introduction to Nacelle's structure and layout will really help get you started. Plus, we can direct you to the features that are the most important to you.
Pricing
Nacelle is typically priced/billed on a monthly basis and rates are determined by your expected usage as estimated by the number of units you manage. Please contact us for a commitment/hassle free quote.
We believe that the usefulness of the product, not the law, should 'lock you in', but we are certainly willing to discuss longer term contracts and comensurate discounts at any point.
What's Included in our Quote
Nacelle licensing
Secure hosting
Daily data backup (with historical retention)
Initial training
Ongoing technical support
AND for a limited time at no additional charge: