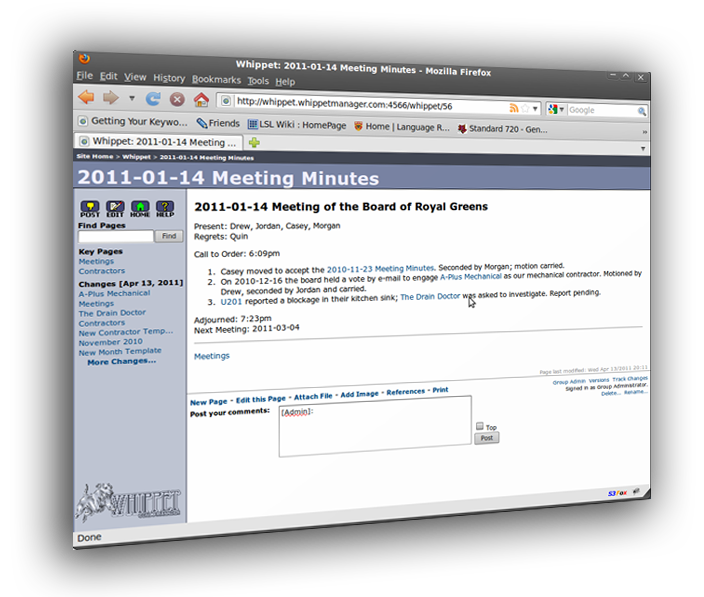 We know condo boards because we serve on them. And here's what we know: board members are busy people because they are willing to get involved. Technology is complicating things; you may have paper documents, pdfs, scans, and print-outs, possibly several versions of each. More and more takes place between board meetings via e-mail. It's impossible to keep everything organized because nothing is in the same medium. Important decisions don't get captured in the minutes because they were made electronically. New boards may get a pile of documents and forwarded e-mails to sort through, or worse, nothing at all. It's very hard to maintain continuity from year to year, let alone see patterns that arise over several years. It may seem an added complication to add yet another electronic tool to the mix, but it's about using the right tool
Wiki Done Right
A 'wiki' is a webpage that anyone can edit. Whippet is a wiki, but unlike other wiki-based tools, Whippet doesn't require an understanding of web technologies or have complicated page creation/organization functions. Whippet is the simplest wiki tool you will encounter: if you can write an e-mail with an attachment, you have all the skills you need. With just a couple additional, plain-text tricks you can get started.
Implicit Indexing
To us, the word 'implicit' means getting something for nothing. Meeting minutes are of course the core of board records, but they provide a fixed narrative; how often have you gone hunting through minutes looking for specific bits of information? Searching electronic minutes can be helpful, but it's easy to miss the right keywords. Whippet allows you to create informative indexes into your minutes simply by typing your minutes. There is no extra effort required other than to learn a simple plain-text convention that you use as you type. However, the result is powerful: new points of access into your minutes and the ability to see patterns at a glance.
Get Out of E-mail
E-mail is an excellent and convenient tool in the moment, but it makes for poor record keeping. It lacks structure, it's hard to navigate and after the fact, it's impossible to sort out what's important from the fluff. Whippet replaces those endless e-mail threads. Documents can be distributed through Whippet rather than e-mail, where they'll automatically be available to future boards as well. Users can comment on any page in Whippet as easily as writing an e-mail: carrying on the discussion in Whippet makes sure that important decisions are captured somewhere easily accessible, even if they aren't part of a board meeting.
Security
Data protection is an increasing important concern and we've got you covered from every angle. You control who has access to your site and your data; we ensure that it's invulnerable to attack. Perhaps more importantly, Whippet keeps track of every edit made to your site. Regular users cannot destroy information unintentionally or otherwise. Even if an administrator did so, we back up your data daily and keep historical backups.
Whippet ensures the accessibility of the information your and future boards rely on.
Try Whippet
Contact us to get a login to our Whippet demo site!
Pricing
Whippet is typically priced/billed at $50.00/month, although there may be some variation due to your specific circumstances. Please contact us if you'd like a firm quote.
We believe that the usefulness of the product, not the law, should 'lock you in', but we are certainly willing to discuss longer term contracts and comensurate discounts at any point.
What's Included in our Quote
Secure hosting
Daily data backup (with historical retention)
Initial training
Ongoing technical support
AND for a limited time at no additional charge: